Glass artist Savannah Webb is reeling from the very sudden and unexpected loss of her father and struggling with the decision of whether or not to sell the family business. Savannah is ravaged with guilt and regret for not being around more; but those who knew her father know how proud he was of his daughter's accomplishments – even if they did take her clear across the country to Seattle. After gathering the courage to head into the shop to begin going through papers and files, Savannah finds herself filling in as the teacher when her father's business partner, Hugh, is nowhere to be found. When student and apprentice Jacob needs to enter the shop's custom workshop for his tools, everyone is stunned to find Hugh's lifeless body. How is it possible for two otherwise healthy men to both die from sudden heart attacks within days of one another?
Savannah simply can't believe that both deaths were accidental . . . and it turns out that her suspicions were correct. But how can the local police solve the case when there's a bumbling incompetent officer in charge? Savannah teams up with business neighbor Edward and one of her students in order to figure out the encoded clues her father left for her and, hopefully, unmask the person responsible for the deaths of the two men Savannah loved most.
Pane and Suffering is an admirable debut cozy mystery. I found the pace to be a little slow in some places, but the characters made up for that by far. Savannah, Edward, Jacob, and Amanda are great new faces in fiction and author Cheryl Hollon painted the perfect picture of an inept and incompetent officer in Boulli! The dialogue is a little stiff at times, but, overall, I enjoyed this story. In a way, I felt like a member of Savannah's stained glass class! It was fun to follow along with the project that was couched in the mystery. And, of course, I am especially fond of the furry characters – Roony and Suzy! I'm eager to see where Cheryl Hollon takes us readers in book two – and I'm hoping for a bit of a quicker pace for the next story, too.
FTC Disclosure: I received a free copy of this book from the publisher in exchange for my honest review. All of the opinions expressed in the review are mine alone.
---
About the Author

Cheryl Hollon writes full time after she left an engineering career of designing and building military flight simulators in amazing countries such as England, Wales, Australia, Singapore, Taiwan and India. Fulfilling the dream of a lifetime, she combines her love of writing with a passion for creating glass art. In the small glass studio behind their St. Petersburg, FL, 1920's craftsman bungalow, Cheryl and her husband design, create, and produce fused glass, stained glass and painted glass artworks.
Cheryl Hollon | Goodreads | Facebook | @cherylhollon
---
More About the Book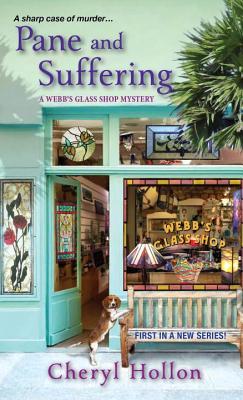 Pane and Suffering
Webb's Glass Shop Mystery #1
Paperback: 320 pages
Publisher: Kensington (September 29, 2015)
ISBN-13: 9781617737602


Synopsis:
To solve her father's murder and save the family-owned glass shop, Savannah Webb must shatter a killer's carefully constructed façade. . .
After Savannah's father dies unexpectedly of a heart attack, she drops everything to return home to St. Petersburg, Florida, to settle his affairs–including the fate of the beloved, family-owned glass shop. Savannah intends to hand over ownership to her father's trusted assistant and fellow glass expert, Hugh Trevor, but soon discovers the master craftsman also dead of an apparent heart attack.
As if the coincidence of the two deaths wasn't suspicious enough, Savannah discovers a note her father left for her in his shop, warning her that she is in danger. With the local police unconvinced, it's up to Savannah to piece together the encoded clues left behind by her father. And when her father's apprentice is accused of the murders, Savannah is more desperate than ever to crack the case before the killer seizes a window of opportunity to cut her out of the picture. . .
---
Purchase Links
---
Giveaway!
Click here to enter to win a print copy of Pane and Suffering and a Kensington umbrella.

---
Tour Participants

October 14 – Carstairs Considers…. – Review
October 14 – Mallory Heart Reviews – Review
October 15 – Moonlight Rendezvous – Review
October 15 – Girl with Book Lungs – Review
October 16 – Christa Reads and Writes – Review
October 16 – Queen of All She Reads – Review
October 17 – Community Bookstop – Review
October 18 – StoreyBook Reviews – Review
October 18 – Shelley's Book Case – Review
October 19 – Musings and Ramblings – Review
October 20 – Melina's Book Blog – Review
October 21 – Back Porchervations – Review
October 21 – Booklady's Booknotes – Review
October 22 – Book Babble – Review
October 23 – Cozy Up With Kathy – Review
October 23 – LibriAmoriMiei – Review
Have you signed up to be a Tour Host? Click Here Find Details and Sign Up Today!